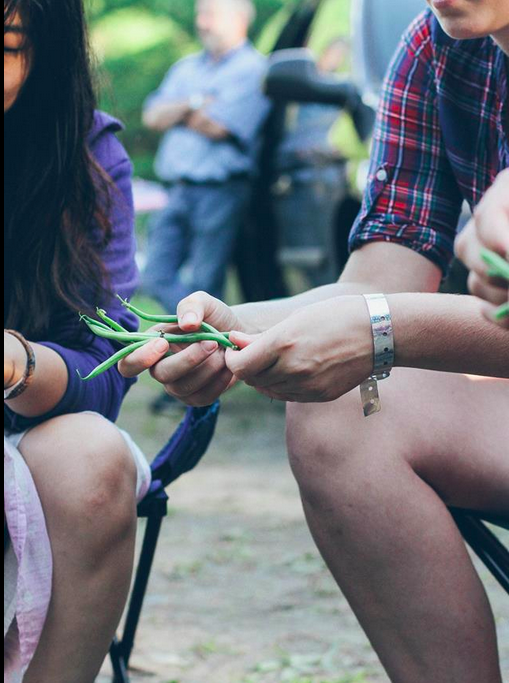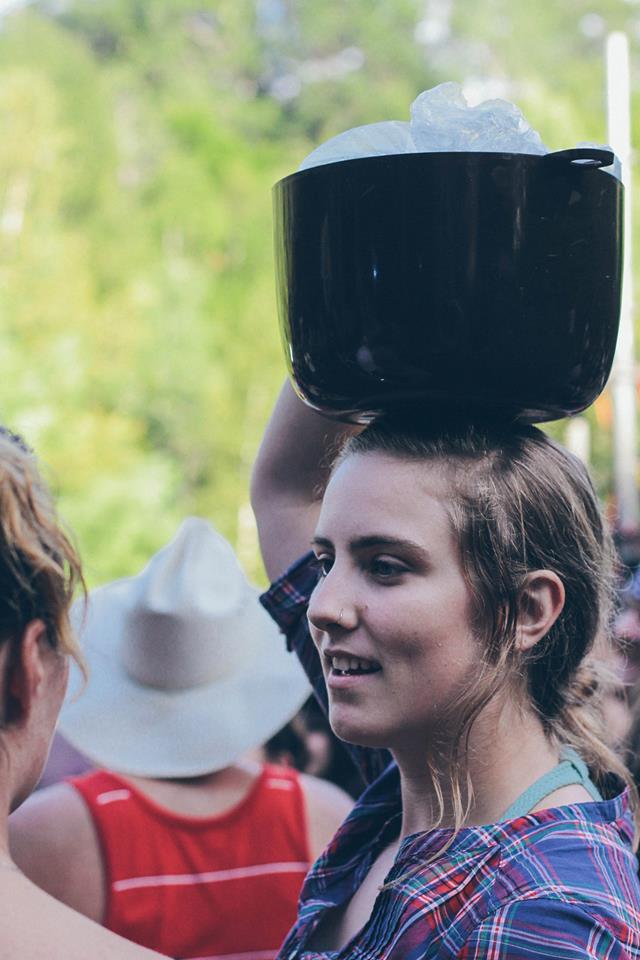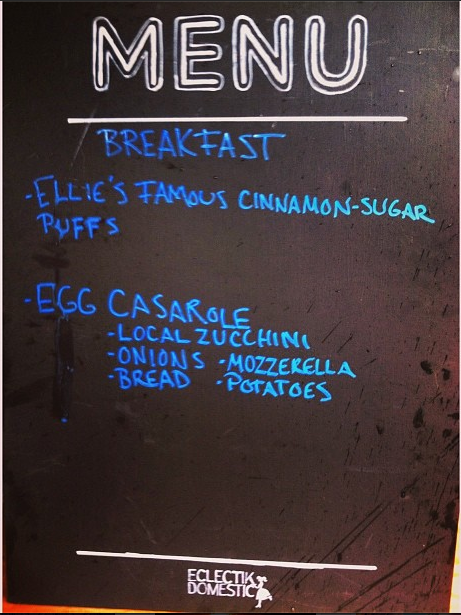 "ALL ARE INVITED WHO WILL CAUSE NO HARM" BY Bryan Bierman
Caravan 2013
As a group of 30 people dancing to Harry Belafonte calypso tunes pass by me, I watch in astonishment. "This is a cross section of what's supposedly the most cynical generation ever," my friend Hunter Bush says, "and they're doing a conga line." This is the 5th annual Caravan festival in Belgrade Lakes, Maine, where over 200 Philadelphians drive over ten hours to come here every year to practice love, peace, unity, and other ideals that usually don't work in real life—at least for more than three days. But above all, they're here to play music.
With almost thirty bands on the roster—almost all from Philly—Caravan has become a who's who in local music, even though they're 500 miles away. There's the psychedelic harmonies of Cheers Elephant, the gritty blues stomp of the Levee Drivers, the upbeat pop of Juston Stens & The Real Gang, the rootsy funk of The Lawsuits, the technical jamming of The Jawn, the powerhouse brothers of Penrose, and dozens more where that came from. And the best part? Every band brings an intensity to the wooden stage because they know this is something special.
The idea for Caravan started with Matt Manser, a soundman, DJ, and alumni of the original Paul Green School of Rock, whose relatives have owned a quarry in beautiful Belgrade Lakes since the early '70s. "The land is the living, beating heart beat of my family, with decades past of generations before having similar experiences," Matt tells me. The history of the location plays a big part of the festival's identity, he says. "I think that rubs onto people who reject their normal interactions with these bands and friends and strangers. It's much more fantastical and viscerally friendly there."
What began as a yearly trip with some close friends ended up being an actual music festival in 2009, with a crowd of about seventy people. Five years later, attendance has tripled, as have the number of acts. So why invite hundreds of people to live and rock on your family's lawn? "Caravan is motivated by an urge to keep those I love close to me," says Manser, "and I think that radiates outward to a lot of people that leave feeling closer to others there."
Taking this many city kids and transplanting them out of their element is something Matt and the rest of the Caravan crew enjoys. And the attendees behave beautifully. Everywhere you look among the tent-filled campground is people hanging out and purely having the time of their lives. Pat Murphy, bassist for Penrose recalls, "I think the most intense it's ever gotten was a screaming match between two people a few years ago. And that's the most 'violent' it's ever gotten. Everyone just comes up here and has fun."
Clark Manser, Matt's dad, gave his feelings on the festival: "The absolute toughest part for me is seeing the property get trampled. Mostly the shore front. Which is the main reason we cut the camping down by the lake. It hurts to find trash by the lake. But I must admit that the kids are really good about the property. It's been that way from the beginning. We've never had any real damage done. Its really amazing that you could put 200 people out there and not have at least a couple of A--holes. The worst people this year were some local kids that wandered in drunk as skunks." These same Maine kids wound up tipping a Porta-Potty over, before fleeing. "But even when that happened," Penrose drummer and brother Tom tells me, "ten people ran out there and picked up the Porta-Potties and cleaned them out." If only the pundits who think of Philly as heartless, Santa-snowball-throwing animals could see this.
"Everyone is so dedicated to it," Penrose guitarist and frontman Dan Murphy describes. "Matt Manser works for six months and then works his fucking ass off for 72 hours straight to make sure everything goes off without a hitch, while we're all praying that the cops don't come up here." (The cops did come on Friday night for a quick visit, but just like other years, they simply told everyone to keep it down.) "His dad Clark—aside from simply letting it happen, which is already incredible—helps build the stage and anything else. Everyone who puts something into this is so dependent on it being awesome that it has to go that way."
It's no wonder that playing Caravan has become a yearly stop for many of the groups. Besides the hours and mileage the fans go through, many of the musicians go out on tour and wrap up with the Maine excursion. Lynne Krohn, who books the groups and helps with finances, picks acts that they love and know will be a perfect fit. "Lynne booked these bands that are drawing more people than we might have had before," Tom explains. "Most bands were rolling up with their band in the car. Now, I think most bands are rolling up with their band in the car and seven or eight other people." While most of the musicians and attendants are from Philly, around forty people are from other places, including a band from Boston and two from New York City. Dan Murphy was shocked by the amount of people who wanted to play. "I think the crazy thing this year is we started telling [bands] in April, 'Sorry, we're full.'"
For Jordan del Rosario and Cheers Elephant, this is their fourth time making the trip. "This year was the biggest and best Caravan yet," Jordan tells me. "We have played many festivals, but this one is by far the most DIY and just having so many close friends in such a remote location makes it what it is." Cheers Elephant always puts on a great show every year, which is why their one of the most buzzed out about bands in our area. When I ask Jordan what makes the Caravan community so unique, to him, it's pretty simple: "It's all about the Philly music scene [at Caravan]. Philly music is something special and to have that many like minded bands congregate in the woods of Maine is really amazing."
Nighttime in the quarry is always a blast, even after the bands stop playing. There's a dance freakout courtesy of Manser, an offshoot of his monthly Barbary party Boomers 'n' Blotters, featuring James Brown, Talking Heads, Daft Punk, and some of the finest grooves ever made. Next is a movie screening, also curated by Matt, on their brand new 20 foot projection screen. Past films have gotten increasingly weird, though one would think last year's showing of the 1973 mind melting classic The Holy Mountain would be the apex. Apparently not. This year saw only one half of Fritz The Cat, an adult animated version of R. Crumb's cult comic strip before too many people complained. "I think it was the cat vaginas," Matt theorizes. Finally, everybody cozies up to the campfire to chat, make s'mores (or my contribution, roasted Starbursts), and grabs guitars for singalongs under the stars. After hearing Ali Wadsworth, one of the best live singers I have ever heard, belt out "Landslide" by Fleetwood Mac, I retire to my tent for the night so nobody sees me weep.
The mornings begin with Sam Cooke gospel songs over the giant sound system as everyone pitches in to pick up last night's mess. A trip into town for supplies at Day's Store is always fun—especially for the clash of Philly and New England accents—and by the time you get back, a team of people are serving up breakfast. A more intricate group of helpers joined in this year, with crews for trash and food. As Tom explains, "If you're gonna be a dedicated trash guy or culinary person, we'll comp your ticket and then you just do some work for it." But even those who aren't on the crew still do what they can to lend a hand. "There are people up here that pay the $50 to come and then spend 80% of their waking moments chopping wood, so that the fire will be big enough," Tom points out. "I mean, that speaks for itself. The second a drop of rain comes down, there's ten people around the stage ready to cover it in plastic. And they're all paying customers that came here to have a good time! But they care."
Besides setting up a merch table and donation bucket, the ticket prices for bands this year was also discounted down to $20 each. For Tom, this is "huge ... because they're still contributing. We would love to pay these guys, there's just not that much money, 'cause we wanna keep the ticket prices as low as possible." And running a music festival is expensive. There's the generator to rent, the Porta-Potties to maintain, the food and water for 250 people, plus a list of other supplies and repairs. Some years they've recouped the costs, some years they've lost money, though even when they did make a profit, it all went back into fixing anything that needed it. The way Tom sees it? "If somebody said to you that you could have this for free, you don't have to spend any money and you won't make any money, that's basically what we're ending up with, which is perfect." For him, this is just the spirit of Caravan shining through. "There was a year when we were a little short on money and Will Wright, who's one of the best musicians here, took $500 out of his bank account and just gave it to Matt. He never even got the money back, 'cause we lost money that year, and he didn't give a shit! He was happy to do it, 'cause it made it happen."
Another massively important part of the Caravan experience is the food. The culinary team, comprised of Katie Briggs and her Eclectik Domestic crew, works all day from sunup to sundown. There's the standard burgers and hot dogs, but every year gets more and more adventurous. This time around, there was zucchini peanut noodle summer rolls, Moroccan carrot raisin salad, cinnamon sugar puffs, garlic country mashed potatoes, and more. But the definite highlight was Olivia, the 204-pound slow-roasted pig, a festival first. After a long Saturday of dancing, swimming, and drinking, a plate of pork that's been cooking for nine hours and brining for two straight days is beyond words, especially for those coming down.
With a festival that can't stop growing, I ask Tom Murphy if it's ever going to get too big that there won't be enough room. "That point might exist, but we haven't hit it yet." As for now, the crew would love to host smaller events in Philly sometime. They're also floating around the idea of a compilation of music from this year's fest—the entire weekend was multitracked recording and every act will be given their set—to help repair the stage. For Manser, the most important thing right now is just a nap. "I've politely asked people to refrain from planning Caravan 2014 for at least a week."
It's obvious, however, that it won't take long for Matt and company to start brainstorming for next year. And the year after that. Soon, it'll be five years down the line. "That's when people start bringing their kids," jokes Dan Murphy. "This child was conceived at Caravan." "That'd be great—a Carababy!" laughs Tom. "As long as it's not mine, I'm happy."
CARAVAN 2012 by Katie Briggs
I cannot begin to tell you how bizarre it is to get into a car, leave Philadelphia, drive 8+ hours north, and find your self surround by the same 150 some people you left in behind. Caravan, a Philadelphia based music festival transplanted to Belgrade, Maine each summer, attracts many young Philadelphian artists from musicians to photographers. The sleepy summer 'Vacationland' (Maine's official state moto) of Belgrade is home to less than 3,000 residences and has an influx of a few hundred rowdy and rambunctious Philadelphian visitors the last weekend of July. The peculiar location of Caravan is the long time vacation site of the Philadelphia Manser family and the brain child of son Matt Manser. Manser, 25, has been making the trek to Belgrade since he can remember. The 470 mile one-way drive has been shared with many a friends of Mansers' and was dubbed 'Caravan' in 2006, after a gaggle of cars made the trip as a whole to the pine forests resting on the breathtaking Great Pond which envelopes the property. The trip evolved into a full fledged music festival in 2009 when Manser invited his fellow musicians to come out and play in the woods. The DIY and serene atmosphere of Caravan has been in constant evolution at 54 Bluebird Drive, and transports one to what youngster can only liken to Woodstock. The 16 acre property transforms into a campsite for its displaced Philadelphia sons, growing and expanding to the far corners of the property. The oasis of the festival offers 3 days of music, as well as meals and camping included in the ticket price. Manser offered me the Chefs' position in 2012 and was delighted to put my chef skills to the test. In the 1970s family built wood cabin and its 40 square foot kitchen, I cooked for the masses and loved every minute of the constant chaos. The still evolving festival is back in 2013 and looks to organize and rock harder than previous years. With my chefs knife and mandolin in hand, I will make the journey back to Belgrade and fuel the locusts that are Caravan.